In the Mediterranean, food is prepared, served and eaten with love and passion, a concept brought to Karibu by Leslie and Kevin.
We try to grow as much as we can in our organic perma-culture garden as well as visiting the markets daily to buy fresh vegetables, fish and meat.
Our dishes incorporate readily available fresh ingredients, prepared with a Mediterranean influence, as well the inclusion of some traditional favourites. Our menu changes with the seasons and the inspirations of Head Chef and Owner, Leslie.
Breakfast
Our 3-Course Breakfast, served from 7am, is included in the room rate. Juice is freshly squeezed from seasonal fruits and pancakes arrive hot from the pan to your plate. A "Full English" follows with eggs cooked to your liking.
If you are leaving us before 7am we offer an "Express Breakfast" of Fruit, Muesli, Pancakes, Juice, Tea and Coffee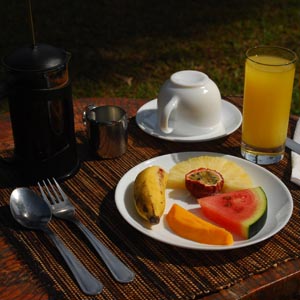 Lunch
The Lunch menu is available through-out the day and available to order on an a-la-carte basis. Our Mediterranean Salads are popular on a hot day, or for those with more of an appetite, Spaghetti Carbonara hits the spot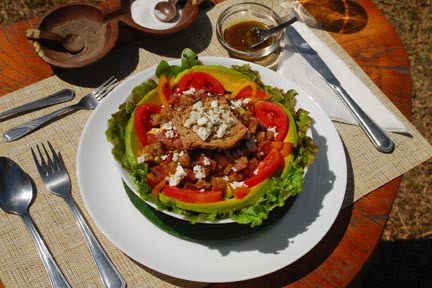 Dinner
Each evening Karibu serves a fresh and tasty 4-Course set-menu for just $US 22. We begin hours in advance, Baking our bread fresh, soups are simmered down from only whole ingredients and meat (when applicable) is slow-cooked. If you have any special dietary requirements, just let us know in advance and we will be happy to alter the menu for you. Please note that dinner bookings are by reservation only.
An Appetizer begins the meal, typically a taste of The Mediterranean. Some items on our current menu; Crispy Date and Blue Cheese rolled in Bacon, Avocao & Feta Bruschetta,Garlic & Olive Tapenade, Olives in Oregano Sauce, Tomato & Fresh Basil Bruschetta
The Entrée follows for which we serve either a salad or freshly made soup with freshly baked bread. Some items on our current menu; Creamy Pumpkin & Thyme Soup, Chicken Caesar Salad, Creamy Tomato & Basil Soup, Traditional Greek Salad, Creamy Spinach & Zucchini Soup with Goat's Cheese & Fresh Bread.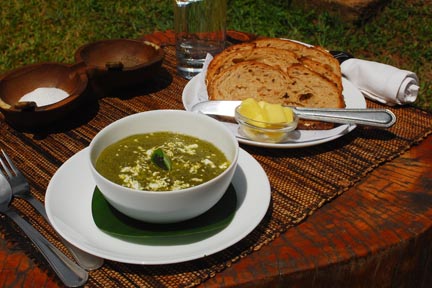 Our Main Course varies with the seasons. Some items on our current menu; Boeuf Bourguignon with Gnocchis a la Romana, Pork Chops in Dijonnaise Sauce with Duchess Potatoes & Caramalized Onions, Talapia Fish Fillet in Beurre Blanc Sauce, Ratatouille, Beef Filet with Pepper Sauce
Desserts make use of fresh seasonal fruit from our garden and the local markets . Some items on our current menu; Mango & Pineapple Crumble, Chocolate Brownie, Mango Flambée, Crème Brûlée, Nutella & Mango Pannacotta
Dining
Most meals are served in our main restaurant, looking out over the garden with glimpses of Lake Victoria behind. For evening dining on a clear night we love eating under the stars by lanternlight on our open-air terrace